ID768 provides a list of your "worst performing contracts" with no plan to fix. We find that clients who just address one or two contracts per week see a big impact.
The contract you have lost the most money on will be at the top of the list. You want you to know someone has reviewed it and documented a plan. We show the number of contracts that have an action plan in place here. Check this 1st to see if any contracts have a plan a zero here says you are not using our process as designed.
**This alert can not report on Deposit Based Contracts**
**New feature: Link to ID150 Contract Profitability SSRS Report, details HERE.

What do you do next...
Step 1
Is the customer profitable vs the contract losing money. The alert is reporting the worst contracts for the last 12 rolling months (if default). Review the far right column "All Contracts Lifetime Margin", it will show how profitable this customer is. You may be losing on this one contract, the other contracts may make up for that loss. If you are billing all revenue on one contract and the costs on another then talk to us as we believe it's very rare to need more than one contract. ID773 is a version of this report by Customer but even if you have other contracts making up for the loss, shouldn't you still address this one?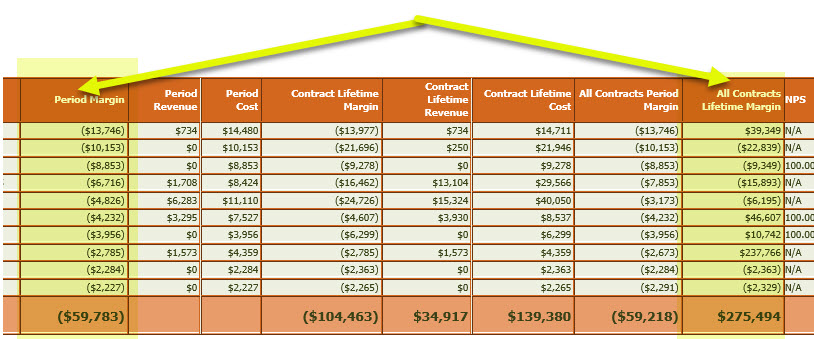 Step 2
Is there "bad data" reporting on the contract? Example a service call with 10 travel hours instead of 1hr. Best place to quickly review this is eViews, go to "CEOJuice Contract Analysis" see this link for overview:             
Step 3
Drill down in to the details with the CEOJuice SSRS Report ID150 Contract Profitability (link to contract details on email) for details on contract & equipment detailed revenue/costs and additional information such as supply pages shipped versus billed. Details Here  
Step 4
Decide on a plan to fix the contract. If it's a ship in and there is nothing you can do then the action plan is "Ship in, review in a year". If there is bad data that needs to be cleaned the action plan might be "clean up these invoices".
We allow you to store a documented action plan to fix the contract in eAuto and decide on a date to review if the fix has/has not worked and until that date the contract will be "Snoozed" more here. When the review date has passed if the contract is still a problem it will show back on this report and we will show the action plan notes.



We have noticed that clients who tackle just one worst offender each week make significant progress.
If you don't have time to review these you can ask the Juice team to do it for you, it is included in our monthly fee. We won't be as familiar with the nuances of the contract but it's a start.
Don't forget to take a look at our Recorded Webinar Link on profitability
Overview of ID768 output:

Ranked: Worst performing contract at top.

Period Margin: Sorted by gross margin dollar amount.

Period Revenue: Period covered is noted above in text, this example is for Rolling Month 1 (RM01) to Rolling Month 12, so the last full month back 12 months,see here for info on Analytics labels.

Contract Lifetime Margin: This shows the life of the contract and not just the period selected.

All Contracts Lifetime Margin: This show all contracts for the customer, your losing contract may be offset by a profitable one.

NPS: This shows Net Promoter Score information from our surveys, knowing how happy a customer is can be an important metric when determining an action plan, more here. N/A will show for customers with no responses to the NPS question.

Report: Link to your ID150 Contract Profitability SSRS Report. The link will fire the report for a period to match the end periods (RM01-RM24 as this alert fired) per VariableW on your subscription. If you see "No Server" or "No Report", then your company does not have SSRS Reports (No Server) or does not have this report (No Report). Feel free to email us at help@ceojuice.com with questions.
Important Items to Review in eAuto and accompanying alerts to help you manage:
ID768 Checklist for Contract Review:
Do you have assigned burden rates, mileage or travel rates? Use ID63 to be informed of any missing burden rates.

Are you checking for tech service call data entry errors? Do you have warnings/pop ups set to for excessive labor, response time and mileage in Tools/Options/Service Calls/Additional Options? Use ID219 to monitor.

Are you reviewing service call entry? Use ID743 to review entered data (such as travel time, labor hours, call type)

Are you linking service calls to contract? Use ID66 to check this.

Review your call types (Tools/Lists & Codes) to ensure correctly assigned Call Type Code (i.e. jamming, error code, etc. listed as Corrective Maintenance)

Are you linking sales orders to contract? Use ID23 to check this.

Are you linking AP Vendor invoices to contract when 3rd party contracts are involved? An exception typically is linking ITT install fees to the contract. Typically these fees are cost of sale, not the contract. Or maybe your organization makes the install fees a cost of contract, then be sure AP is linking that payment to your contract. Please also see this National Accounts Best Practices link HERE.

Is the bill code in equipment record a billable equipment code? Contract bill code overrides equipment bill code, so always rely on contract set up to facilitate correct billing. See ID35/ID47 on new contract set up.

Is contract type set up correctly with appropriate % allocations based on service codes included in contract bill code? Does the same go for overage distribution code?

Any issues with your base rates vs. overage rates being considerably off? Use ID20 and ID542

Are your meters all billing under meter groups? Use ID293

Are you billing base to lease company and overages to customer under one contract record? Remember that base is your revenue to offset your costs and you want it under one contract record to track your profitability. eAuto 7.1+ allows for separate base bill to.

Are techs selling consumable items on their service calls? Use ID664 to be alert when item service code of "supply" used on service call.
 eViews to use for audit of past entries:
CEOJuice Contract Analysis – filter by contract#

Sort by cost to see extraordinarily high costs incurred against contract. This can help show you activity against the contract that should or shouldn't be there. Is there no labor cost? Then tech missing burden rate. Is there repeatedly no overage costs? Are meters missing?

Service Calls (Invoiced)(Historical) – filter by customer

Sort by contract number and look for $0.00 billed when no contract# referenced. Also look for amount billed when contract number used. Was client correctly invoiced? Should contract have been referenced in service call so costs can go against contract?

Sales Order Details – filter by customer

Sort by contract number to see if $0.00 billed when no contract# referenced. Also look for amount billed when contract number used. Was client correctly invoiced? Should contract have been referenced in supply order so costs can go against contract?