We can sync service calls (Tickets) from CW Manage to eAutomate. Both chargeable and non-chargeable, with or without materials.
Jump to Overview | Samples | Variables | Set Up | Alert Functionality | Best Practices & Tips | Related Alerts
Overview
Overview
See here for getting started with the sync.
The service call sync will take completed (or invoiced, depending on your practice) service tickets from ConnectWise and insert them into eAutomate. We assume that you want to have technician costs associated with the contract in eAutomate, so we highly recommend that you have the ID964 agreement sync running. (You can run the service call sync independent of the agreement sync if needed, attaching calls to contracts will work much smoother with it running.)
All group billing of chargeable tickets/calls must be done in eAutomate, not ConnectWise. CW Manage and eAutomate can calculate chargeable service calls and calls for block of hours contracts very differently. We are pushing the call into eAutomate to exactly match ConnectWise, however, if someone opens and clicks ok then eAutomate will recalculate. We recommend that these calls not be touched, that you set eAgent to auto invoice them (we can help) and we plan to have alerts to let you know when one is changed.
We allow you to use a variable to set a default tech to be assigned in eAutomate, otherwise, we do require that your techs in CW Manage be linked to the techs in eAutomate so we can apply the correct burden rate for contract profit, etc.
Run Schedule: Every 15 minutes
Type of Output: Data Push
* * *
Sample
Sample
Service Ticket Call Info: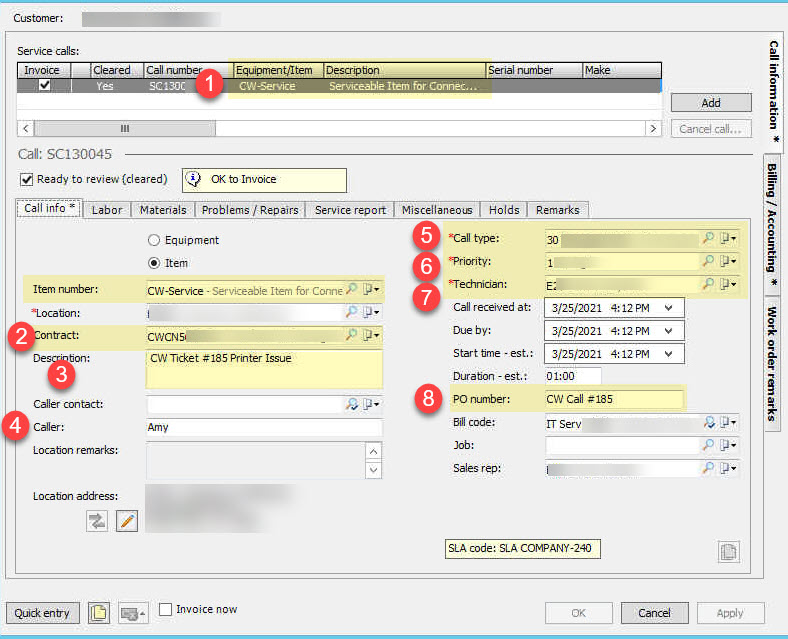 1. The service call imported from Connectwise will use the same standard serviceable item for all calls. If you are using the ID964 agreement sync, this item will be automatically added to each contract created by the sync. If you are not using the agreement sync, you'll need to manually create this item and add it to the contracts.
2. Contract matching is based on the following hierarchy:
A. If the agreement used on the Connectwise service ticket is synced to a contract in eAutomate, this is the contract that will be used.
B. If the customer has a single active contract of a type set in Variable Z, that contract will be used.
C. If there is only one contract for this customer in eAutomate, that contract will be used.
D. If none of the above apply, the contract will be blank.
3. The description field is pulled from the Ticket Summary field in Connectwise, the ConnectWise ticket number is also included.
4. The contact name is pulled from the contact name on the Connectwise ticket.

5. The call type follows this hierarchy:
A. If the Type from Connectwise exactly matches a call type in eAutomate.
B. If there is no match, the call will default to the value you set in Variable W.
**You can also set the sync to always default to the type set in Variable W by setting Variable X to Yes.
6. The call priority follows this hierarchy:
A. If there is an exact match between Connectwise and eAutomate, that priority will be used.
B. If there is no match, the priority will default to "Low".

7. The technician will be the ticket owner if there is one. If there is no owner assigned to the ticket in ConnectWise, the sync will use the tech specified in variable 3.
*You can set the sync to always use the default technician by setting Variable 2 to Yes.
8. The call number from Connectwise will be entered in the PO field on the service call.

Service Call Labor Entries:
Each time entry from the Connectwise ticket will import as a separate labor entry on the service call in eAutomate.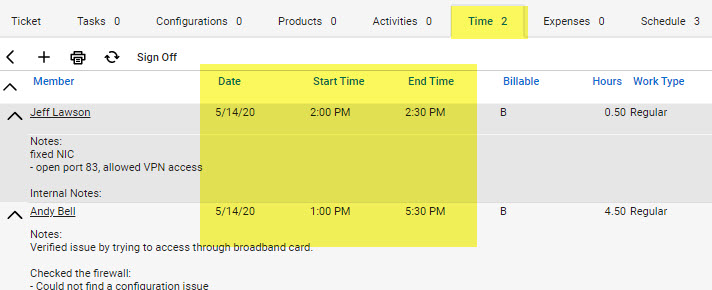 Service Call Remarks:
The notes from the last time entry from the ticket in Connectwise will show on the remarks tab of the call in eAutomate:

* * *
Variables
Variables
Variable 4: Sync Calls when - Used to determine when calls are pushed from ConnectWise to eAutomate. The default option is when the ticket is completed in ConnectWise. Or you can set to invoiced to push when invoiced. **Required for sync to work correctly**
Variable Z: Contract Types - Contract types normally associated with Managed IT contracts. If the sync doesn't find a matching contract based on the ID964 synced agreements AND the customer has one active contract of one of these types, that contract will be used on the service call.
Variable W: Default Call type - Call type to use when the ticket type in Connectwise does not match the call type in eAutomate. **Required for sync to work correctly**
Variable X: Always default call type - Yes/No, the default value is No. Setting this to yes will cause the sync to always use the call type specified in Variable W when importing calls. **Required for sync to work correctly**
Variable Y: Default On Hold Code - If you want every call imported to be placed on hold, enter the on-hold code to use here. When this is left blank, the imported calls will not be placed on-hold.
Variable 1: Ignore Board - Enter the board name from Connectwise of any boards you do not want to sync calls from. Separate multiple boards with a comma. Leaving blank will import all tickets.
Variable 2: Always Default Technician - Always use the default technician on all calls imported. The default value is no, switch to yes to always use the default technician and not the technician on the ticket.
Variable 3: Default Technician - Technician to use as default if the technician on the Connectwise ticket does not have a match in eAutomate. **Required for sync to work correctly**
Set Up
Set Up
1. Subscribe to both ID747 and ID965, being sure to update the variables as needed. Be sure to review the variables in this section and make sure to enter the information for all required variables! If you don't have a login to our subscription site, you can email help@ceojuice.com to have us set you up with a login.
These next three steps may need an IT person with admin access to ConnectWise and eAutomate. These three steps should already be in place if you have tested other portions of the sync.
2. Create API keys for CEO Juice in ConnectWise and enter them on the CEO Juice website (See this link for instructions on how to do that)  **If you have already created keys for other portions of the CW sync, you do not need to create new ones.**
3. We do require that the initial sync goes from your production ConnectWise database to a Test/Development EA database, so you will need to have a test eAutomate database set up for this process. If you have a test ConnectWise database, we can initially sync from that, but it is not required.   (This sync process only pushes information from ConnectWise to eAutomate while in test) **It's important that this test eAutomate database is not refreshed with new data during the testing process!!
 4. We also require a test copy of our CEO Juice database to be created for the testing phase. See this link for details on how to do that. 
Mapping technicians between ConnectWise and eAutomate
5. The technicians need to be mapped between ConnectWise and eAutomate to ensure the proper technicians are used on the service calls created. See details on how to set this mapping here.
Once these steps are completed please let us know by sending an email to help@ceojuice.com, we'll then install the sync pieces and can push the first test of tickets over from ConnectWise to eAutomate.
* * *
Alert Functionality
Alert Functionality
Technicians
Technicians need to be mapped exactly between Connectwise and eAutomate. This is done by entering the Member RecID from ConnectWise into a custom property in eAutomate. (**If you have previously mapped the employee number from eAutomate to the employee ID field in ConnectWise, we can move this data from ConnectWise to eAutomate for you.)
Create the custom property in eAutomate:
Attribute name: ZCJ_CW_EmpRecordID
Description: ConnectWise Sync Member ID
Data type: Numeric
The value to be entered in the custom property is the Member RecID from ConnectWise: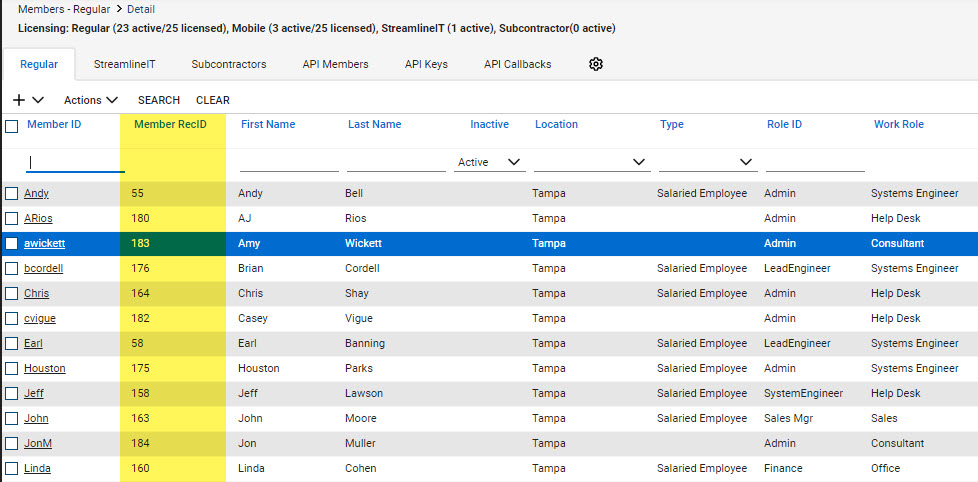 Call Types
Call types must also match precisely between eAutomate and Connectwise, otherwise, the default call type will be used from Variable W.
To see the types in Connectwise, go to Setup Tables > Service Board List and choose the correct board. Then click on the Type tab to see the list of types for that board: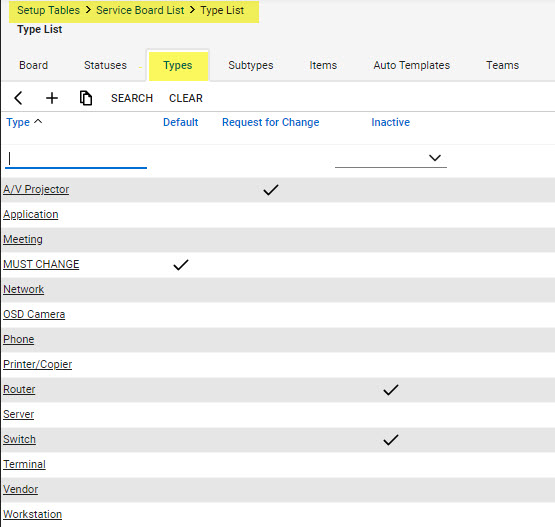 The call types in eAutomate are found by going to Tools > Lists and Codes and then choosing Call Types from the drop-down menu: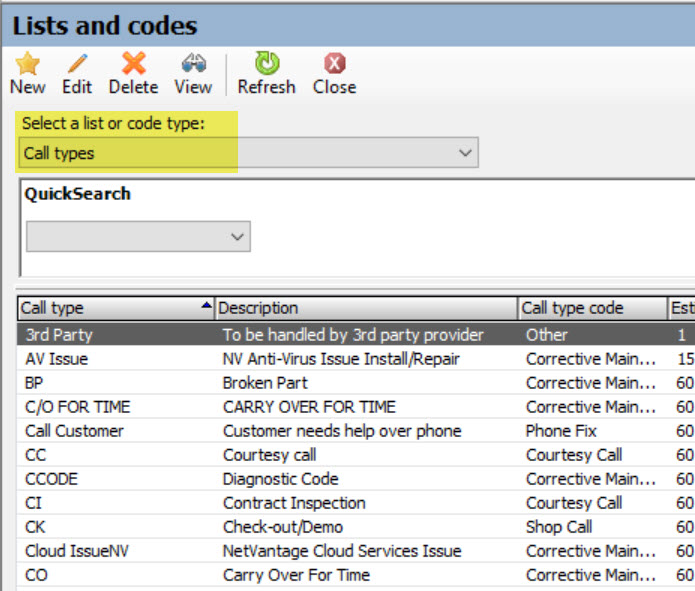 Call Priorities
Call priorities must also match exactly between the two systems, otherwise, the call will default to the priority "Low" in eAutomate.
Call priorities in Connectwise are set by going to Setup Tables > Priority List: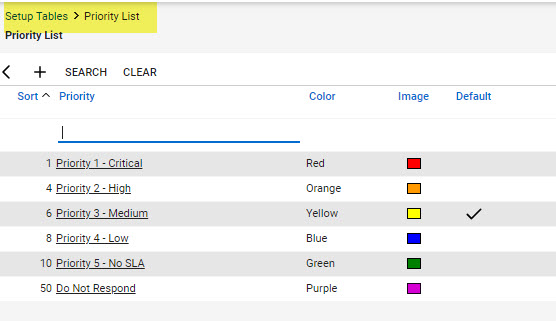 Call priorities are set in eAutomate by going to Tools > Lists and Codes and selecting Service priorities from the drop-down menu: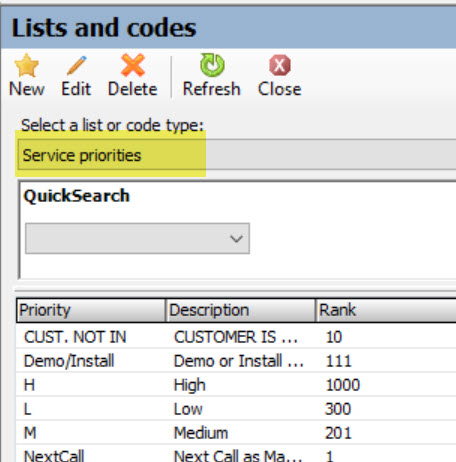 * * *
Best Practices & Tips
Best Practices & Tips
* * *
Related Alerts
Related Alerts
ID747 - Connectwise Customer Sync
ID964 - ConnectWise Agreement Sync
ID966 - ConnectWise Sales Order Sync
* * *