This process will sync invoiced project tickets from ConnectWise to eAutomate
Jump to: Overview | Samples | Variables | Alert Functionality | Best Practices & Tips | Related Alerts
Overview
Overview
This process will sync invoiced project tickets from ConnectWise to eAutomate as ok to invoice service calls.
This process is still very early in the development process, we will update this space as details become available.
Run Schedule: Daily at 5:30 PM
Type of Output: Data push
* * *
Sample
Sample
Service Ticket Header: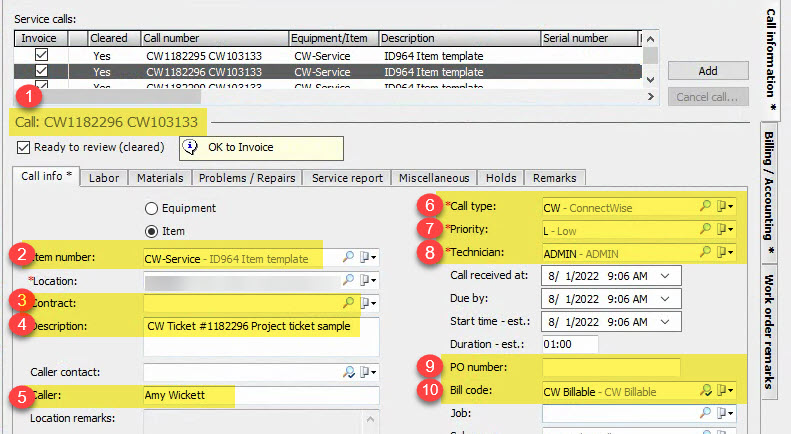 1. Call number - The call number will be CW TicketNumber CW InvoiceNumber. In the above example, the ticket number from ConnectWise is 1182296 and the invoice number is 103133. All tickets that are invoiced together in ConnectWise will be linked to the same work order in eAutomate so that they can be invoiced together.
2. Item number - All calls will be created with the CW-Service item.
3. Contract matching is based on the following hierarchy:
A. If the agreement used on the Connectwise service ticket is synced to a contract in eAutomate via ID964, this is the contract that will be used.
B. If the customer has a single active contract of a type set in Variable Z, that contract will be used.
C. If none of the above apply, the contract will be blank.
4. Description - The CW ticket number will show in the description field, along with the summary of the ticket from ConnectWise.
5. Caller - The caller name from ConnectWise.
6. Call Type - The sync will attempt to match the ticket type from ConnectWise to a call type in eAutomate. If a match is found, that call type will be used. If no match is found, the default call type will be used.
7. Priority - Priority is pulled from the call type on the service call.
8. Technician - If there is a ticket owner assigned in ConnectWise, that member will be the technician on the service call. If there's no ticket owner, the technician will be the member from the final time entry on the ticket.
9. PO number - If there is a customer PO on the ticket in ConnectWise, that will populate in the PO number field on the call.
10. Bill code - If there is a contract on the service call, the contract bill code will be used. If there is no contract, the default bill code will be used.
* * *
Setup
1. Subscribe to ID522, being sure to update the variables as needed. If you don't have a login to our subscription site, you can email help@ceojuice.com to have us set you up with a login.
These next three steps may need an IT person with admin access to ConnectWise and eAutomate
2. Create API keys for CEO Juice in ConnectWise and enter them on the CEO Juice website (See this link for instructions on how to do that) 
3. We do require that the initial sync goes from your production ConnectWise database to a Test/Development EA database, so you will need to have a test eAutomate database set up for this process, the test database should be recently refreshed so that the customer information is up to date. If you have a test ConnectWise database, we can initially sync from that, but it is not required.  **It's important that this test eAutomate database is not refreshed with new data during the testing process!!
**When creating a test eAutomate database be sure that you set up the company in eAdmin and don't just set the database up in SSMS. If you have questions on how to create a company in eAdmin, the ECI help page (16.1|17.2|20.1) has details under E-admin > Company Management > Creating and Restoring a Company: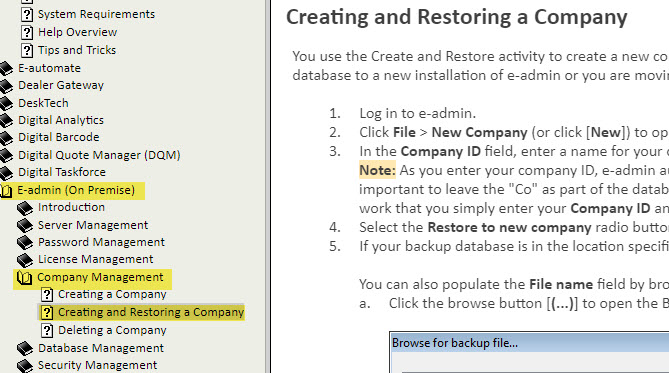 4. We also require a test copy of our CEO Juice database to be created for the testing phase. See this link for details on how to do that. 
Variables
Variables
Coming soon!
* * *
Alert Functionality
Alert Functionality
As project tickets are invoiced in ConnectWise, either by phase or as the tickets are completed, the sync will transfer the tickets to eAutomate as Ok to Invoice service calls. Each ticket in ConnectWise will link to a service call; tickets invoiced together in ConnectWise will be on the same work order in eAutomate. This will allow the service calls to be invoiced on one invoice in eAutomate.
Fixed fee projects will also sync with this process.
* * *
Best Practices & Tips
Best Practices & Tips
After opportunities are marked as "Won" in ConnectWise, they can be converted to the department in which the work will be completed. For this workflow, we recommend that you convert any products that need to be ordered to sales orders and any labor items to a project.
The sales orders will sync to eAutomate via the ID634/ID966 sales order sync. Invoiced project tickets will sync via this process into eAutomate as ok to invoice service calls. Each project ticket will link to one service call in eAutomate. All project tickets invoiced together in ConnectWise will be linked in eAutomate with the same work order number so that they can all be invoiced together.
Custom Property Set Up
* * *
Related Alerts
Related Alerts
ID747- ConnectWise Manage Customer Sync
ID964 - ConnectWise Manage Agreement Sync
ID965 - ConnectWise Manage Service Call Sync
ID966 - ConnectWise Manage Sales Order Sync