ID181 is designed to send an email to your customer who placed the service call (person in "caller contact" field) to advise them when the call is opened, dispatched and completed.  By default they only go out on calls that have a call type linked back to a "CM-Corrective Maintenance" or a "PM-Preventative Maintenance" category, use Var3 to exclude PM calls.
Use ID87 to make sure calls are linked with a contact/email.
See this post to decide how many emails your customer should get.
Note we have other alerts similar to ID181, see here for the differences.
This alert can bet set to default on for everyone or just be turned on in Selected mode. Please see THIS POST for instructions on setting these Custom Properties.
Also please note this alert will also send for calls on Credit Hold as its status is still considered "pending/opened" by eAuto. The alert will not notify on same status if status reverts back to a previously reported on status (i.e. tech undispatches from call, alert will NOT notify again that call is opened/pending).
VariableZ allows for you to select at global level if you would like tech Call Remarks included on email to your client when call is closed. These Call Remarks pull from here: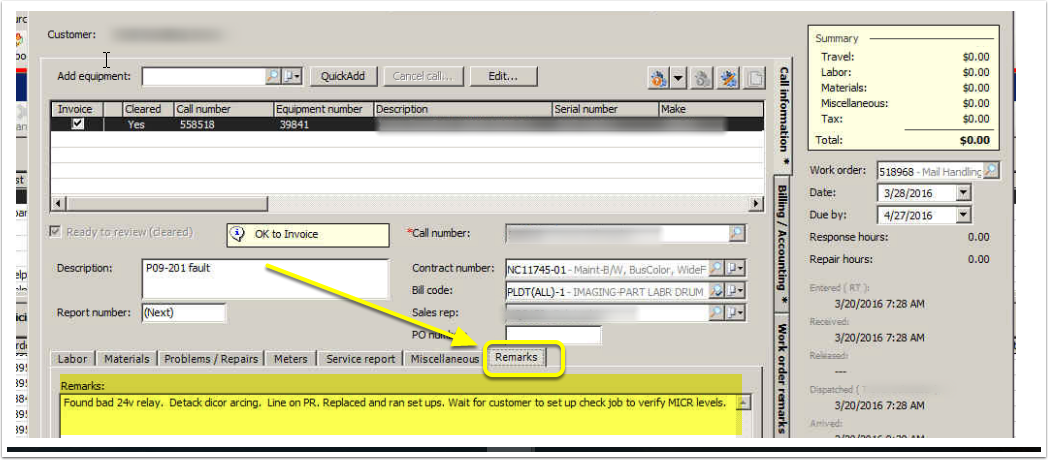 ZCJCallAlertsOnOff is how you turn it on/off for a customer. Depends on the default "mode" you opt to use in the subscription VarY, either AllMode goes out on all calls to customers (and you turn off for those that don't want it) OR SelectedMode goes out to only customers you set in belows example.
If one contact wants to opt out of these emails, but other contacts at the location want to receive them, you can choose to opt out an individual contact only. In Contact record / Category tab, set ZCJNoCallAlerts.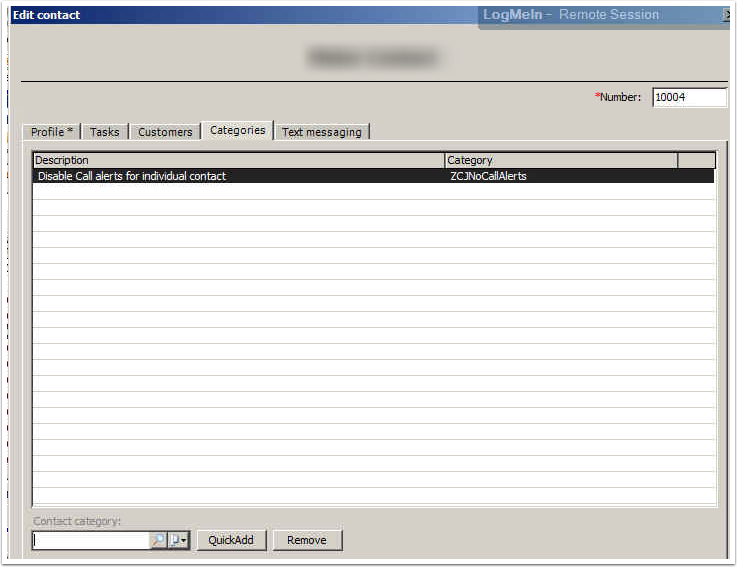 ZCJCallAlertStatusOverride is where you set the status emails this customer will receive, IF you want to use something other than the default status' you set in Var1 (Opened, Dispatched, Arrived, Completed, Canceled). This setting can only be made at the Customer or Parent Level (not at Equipment Level).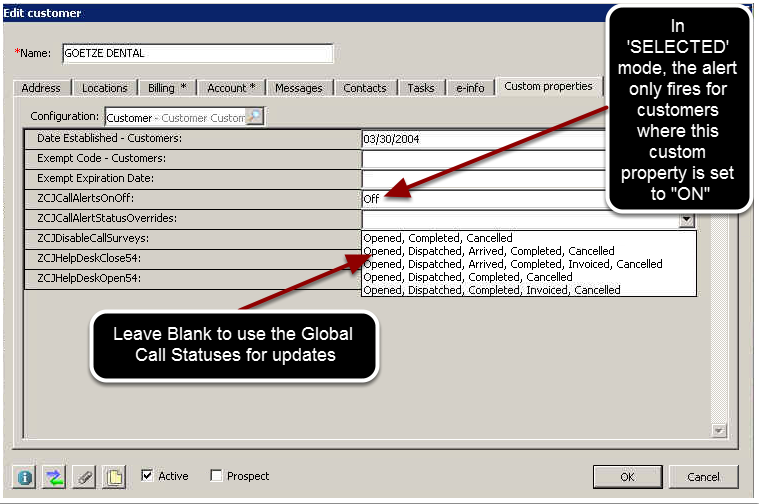 Notes on Options:
You can customize the messages
Option to add photo of tech (see example below)
Choose if notes are shown or not (VarZ)
Choose if PM calls are included or not (Var3)
You can add a signature block / logo, links to Facebook etc.
We generally include a question on the Closed Call Survey (ID109) that asks customers if they would like this service, we see 68% of people answer yes to this and about 12% answer no. In particular customers like to get the message that the tech has been dispatched and is on the way and like the fact that they know in advance which tech is coming. We also find that once techs understand that dispatching themselves is the same as telling the customer they are on the way they are less likely to get "detoured" en-route to the customer.
Options:
1. We can include technician photo for dispatched calls (instructions for photos here)
Call Entered sample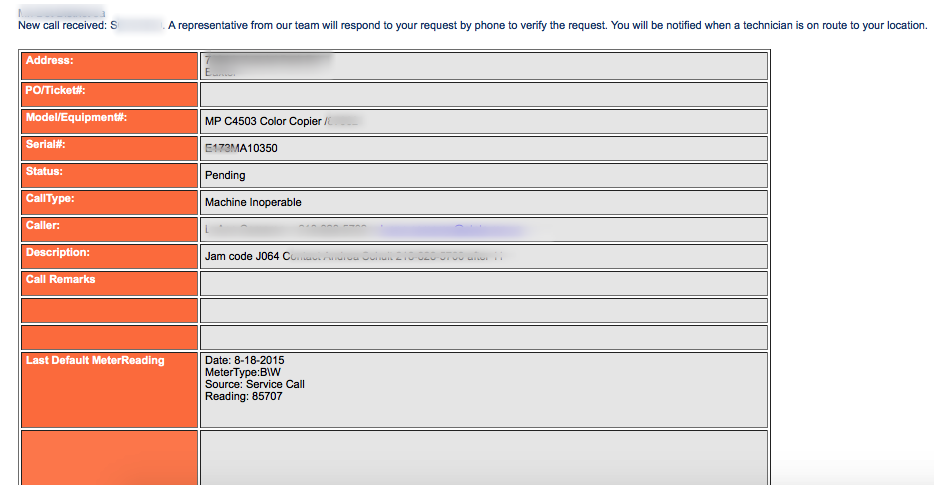 Call Dispatched sample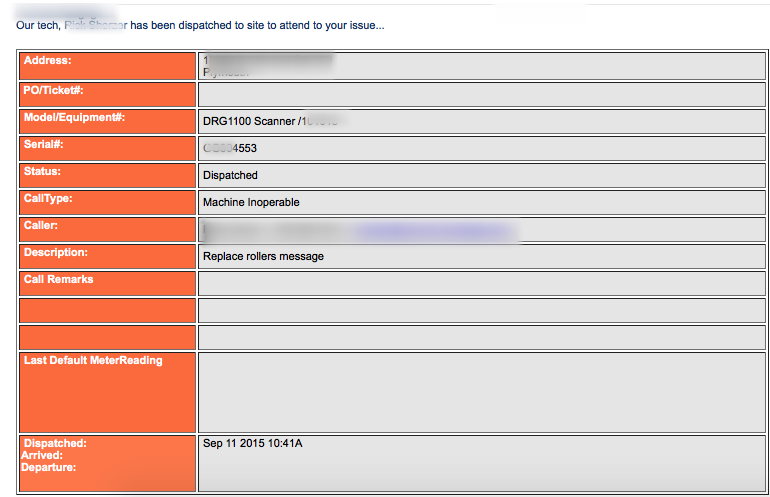 Call Rescheduled sample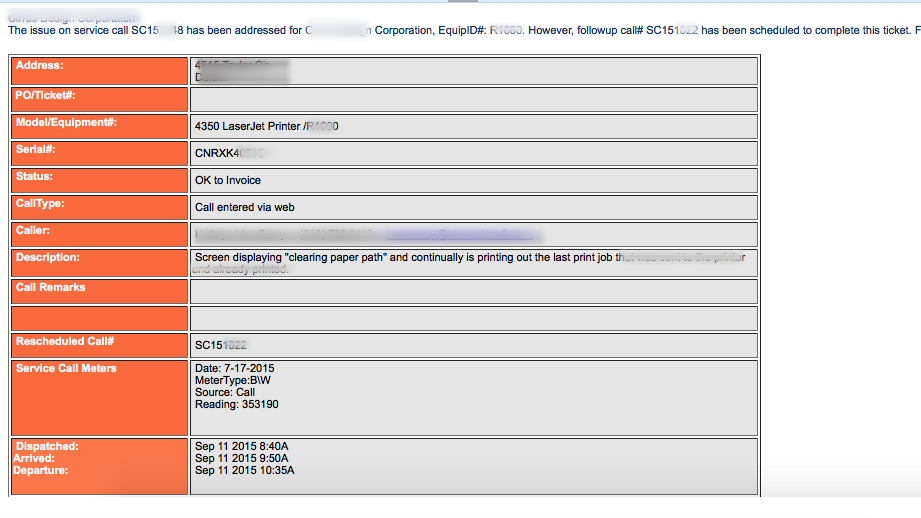 Call Completed sample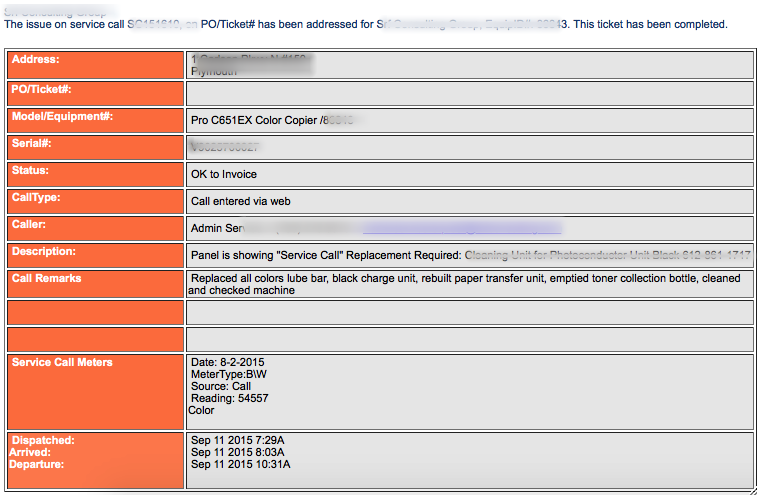 2. We can include a link in email when tech is dispatched to keep your customer continuously updated as to location and ETA. An "Uber style" continuously updated map showing the tech as they head to your call.
Please CLICK HERE for more details;