This alert and SSRS Report is a time-sheet report for technicians daily showing all time entries for that tech from service calls / unavailable time / timecards. The task can be scheduled to run daily or not at all as this is also installed as an SSRS Report to be run on demand. If you want the task to run please indicate in the schedule/comments the frequency and we will match the report to the frequency (weekly/daily/monthly/etc).
**Note the data is accurate thru the day before you run this report as the background tables populating the report run each night.
**When run as an automated task will only select techs with 'Time Card Export' box checked. See THIS LINK for details. 
**This is also 1 of 3 (others ID206 ID207) subreports in ID204/Tech Activity Report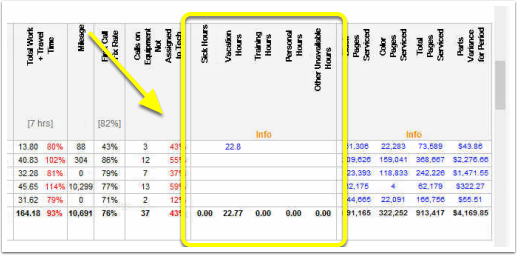 Sample of ID205/Tech Time Log Report Detail:
*Note 'Work & Paid not on service calls' would be, for example, training or admin time. These other items (paid or not) would be entered on the timecard.
*We also suggest using ID592 which will notify of duplicate labor entries and should help identify time log issues*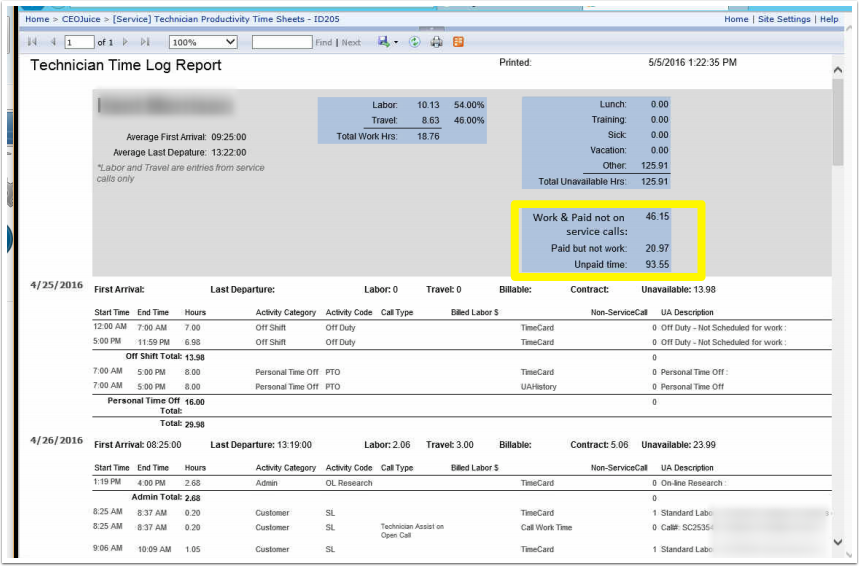 ** Is your tech's unavailable time off? The screen shot above shows double entries for Personal Time Off. There is a Time Card Entry and an Unavailable Time Entry from 7AM - 5PM on 4/25/16 as well Activity for Off Duty. Be sure to only use Time Card or Unavailable Time Entry, NOT both. Quick access to see these duplicates via Employee Record, Right Click and select Reports/Time Card Entries: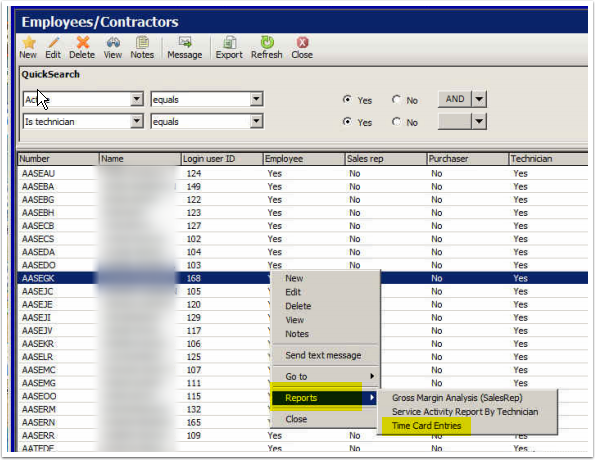 Further sample shows Labor Entries for First Arrival Time, but also shows Travel Time:

SSRS Report is available to run as needed and subscription recipients will receive a weekly email containing report in excel format as well as a direct link to SSRS Report.