This alert and SSRS Report is a time-sheet report for technicians daily showing all time entries for that tech from service calls / unavailable time / timecards. The task can be scheduled to run daily or not at all as this is also installed as an SSRS Report to be run on demand. If you want the task to run please indicate in the schedule/comments the frequency and we will match the report to the frequency (weekly/daily/monthly/etc).
**Note the data is accurate thru the day before you run this report as the background tables populating the report run each night.
Tech missing?
This report requires eAuto Technician Employee Record have the Time Card Export box checked here:
**This is also 1 of 4 (others ID206 ID207 ID372) subreports in ID204/Tech Activity Report
This report can be accessed from your
(1) ID204 Tech Productivity Report by clicking on a cell entry hyperlink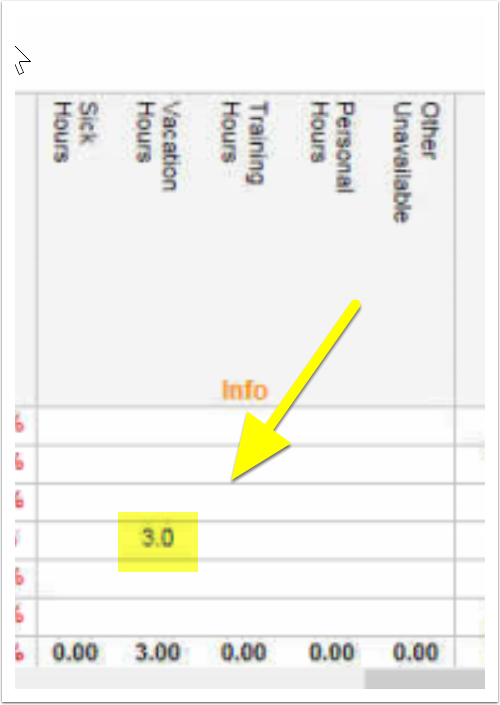 OR
(2) you can run directly from SSRS Reports: Technician Productivity Time Sheets - ID205

Sample of ID205/Tech Time Log Report Detail: Note: Default Print Size is 11x17
*Note 'Work & Paid not on service calls' would be, for example, training or admin time. These other items (paid or not) would be entered on the time card.
*We also suggest using ID592 which will notify of duplicate labor entries and should help identify time log issues*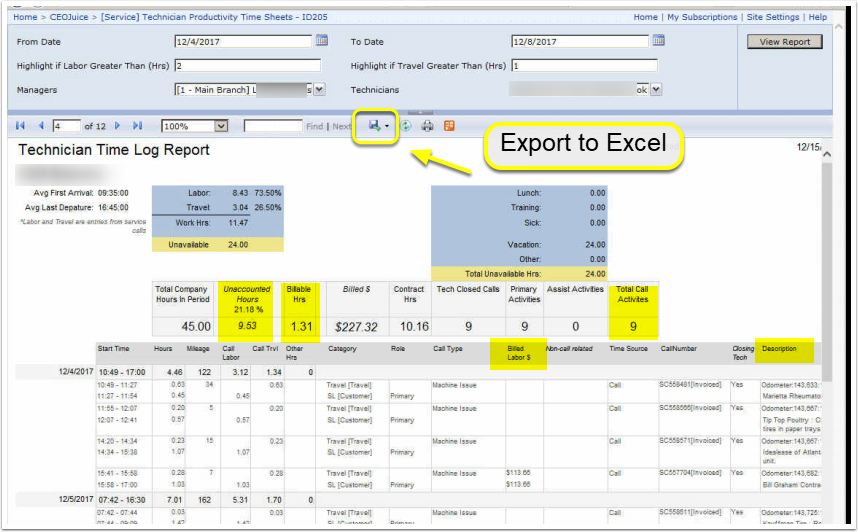 Formatted for easy export to excel.
Unaccounted Hours = Total Time in Work Period - Work Hours + Unavailable Time
Billable Hours - report now shows amount of billable hours
Total Call Activities - best use for Help Desk Techs as these techs measured by activity entries, not calls closed
Additional Pages Sample:
Great tool for Help Desk Techs to review activities. Sorted by Customer Number, then by Call Number. Description column includes:
Call notes from labor, odometer, Customer Name

Troubleshooting:
** Is your tech's unavailable time off? The screen shot above shows double entries for Personal Time Off. There is a Time Card Entry and an Unavailable Time Entry from 7AM - 5PM on 4/25/16 as well Activity for Off Duty. Be sure to only use Time Card or Unavailable Time Entry, NOT both.
***Please note, if you make any changes to unavailable or time card entries, report will not reflect those changes until the next day (nightly table updates required)***
Quick access to see these duplicates via Employee Record, Right Click and select Reports/Time Card Entries: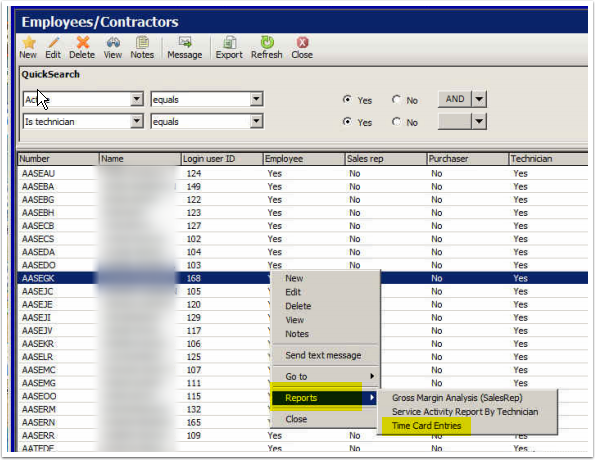 Further sample shows Labor Entries for First Arrival Time, but also shows Travel Time:

SSRS Report is available to run as needed and subscription recipients will receive a weekly email containing report in excel format as well as a direct link to SSRS Report.